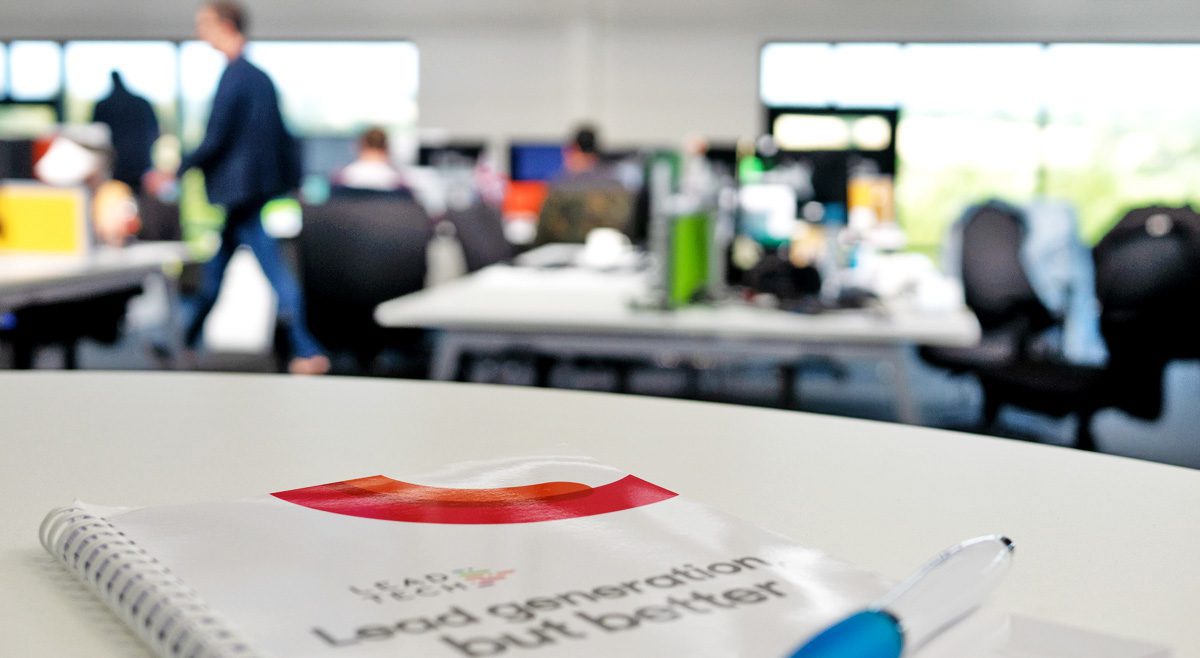 Leadership tips from Lead Tech's founders
PW – It's a long story that starts back when Nigel and I co-founded a web software company. We developed software systems for businesses. After working for clients for nearly a decade, we realised it was time to do something for ourselves, so we took the opportunity to enter a different business model into the market.
NB – We wanted to be masters of our own destinies. We got to the point where we were tired of working for other people and didn't feel like we were achieving what we wanted by working for others. It was a case of finding the right opportunity.
Because of my advertising background, I developed an interest in creating a business to attract customers. The emergence of the internet and tech made me naturally think about how the internet could be used to help people and this was something we were passionate about.
PW – At that time, we had a share of a business in Manchester that offered lead generation for home improvement companies. We saw what was possible with a business model like theirs and started thinking about how we could apply it. That's when we became interested in financial services.
The industry was very traditional in its attitude to gaining and attracting customers in 2008. Lead Tech was founded because we wanted to present lead generation as a modern solution to help financial advisers grow and find new customers. What we were doing was really new back then. We were one of the first lead gen companies in financial services.
Q – What key skills do you need as a CEO?
PW – Being a CEO is very entrepreneurial. Drive and commerciality are essential aspects of the role, so there's a real benefit in creativity and finding new solutions to problems. The other fundamental skills are using and developing your emotional intelligence. To be a capable leader, you need to be able to put yourself in the mindset of people from across the business.
NB – I'm glad Paul mentioned emotional intelligence. I believe the most successful leaders are empathetic. It's important to put yourself in others' shoes when you manage a team. If you can understand your employees' challenges, you'll better understand how to support them and form stronger working relationships.
Communication is important at all levels, from the ability to communicate to the wider business down to individuals. Strong leadership and sales skills will also help you encourage people to buy into your company vision.
Q – What do you find most rewarding about leadership?
NB – What I find most rewarding is providing real value to our customers and partners and seeing the business improve as a result of the people that drive it. The passion, pride and commitment I see on a daily basis from our teams to deliver our company vision is a constant source of inspiration.
PW – I completely agree. Seeing your business grow is satisfying, but supporting people is one of the most rewarding parts of the job. My expertise gives me the opportunity to mentor and aid the development of senior people in the business.
For me, it's about driving our people to succeed. If you build a healthy company culture, it outweighs the importance of business strategy and will always have a positive impact on financial performance.
Q – Do you have any advice for aspiring business leaders?
PW – It took me a long time to understand it, but people are the key to getting where you want to be. Entrepreneurs often think they need to be one-man-bands, but you can't do everything yourself.
Many people don't want to give up control and are afraid of breaking that image. You need to be strong enough to step away and employ people that are better than you. A good team will have the skills and experience to help you develop the business.
NB – My advice is to think about the value your product or service brings to your customers, create a business that people want to work for and build an environment that makes people want to come to work every day.
It's also important to maintain balance. When you work in a fast-paced and exciting industry like lead generation, the long hours can take their toll. You might find yourself feeling overwhelmed, taking work home because you've been in meetings all day. I've learned to delegate tasks and prioritise organisation. Eating healthy, exercise and meditation are other tools I use to balance myself.
Q – What are key things to look for when you're building a team?
NB – Skills and experience are always important, but in my opinion, it's about finding passionate people with the right attitude, motivations and values for the company.
If you can build your team around these criteria, then you'll ensure that your team is happy and fits in with the culture you're trying to create, which will add real value to your business in the long run.
PW – Someone once said hire for attitude, train for aptitude. Of course, there's a certain level of aptitude to consider in the hiring process, but we're more interested in people that want to grow. A driven team will grow alongside your company, but only if you support them. It's about growing the teams in the right ways and bringing people into the business that have a good cultural fit.
Take your business to the next level with your tailored growth plan
Complete our quick form and one of our Partner Services experts will be in touch to discuss how we can help grow your business.
Insights
Discover our latest industry insights and delve deeper into our life at Lead Tech.